Maintenance for ODS
In 1983 all gas space heaters were required by U.S. government regulations to be equipped with an OXYGEN DEPLETION SYSTEM (ODS). The ODS pilot burner is a highly sensitive device which is designed to shut off a heating appliance if the oxygen level in an area falls below 18%. The standard oxygen level is 21%.
Because the ODS is a high sensitive device it must be properly maintained. PERIODIC CLEANINGS IS A NECESSITY DUE TO ACCUMULATIONS OF LINT AND DUST IN THE PILOT BURNER AND MIXING CHAMBER!
CLEANING THE ODS PILOT BURNER
A. The pilot will burn correctly, as shown below, when it is properly cleaned.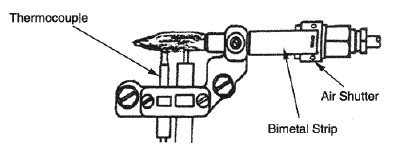 (straight flame across the tip of the thermocouple)
B. The pilot will look like this if it is not burning correctly.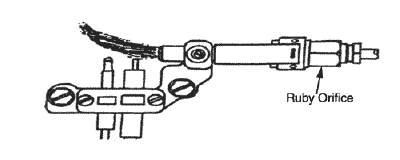 (flame is raised from tip of thermocouple)
How to clean lint and dust out of the pilot burner:
The lint can be blown out by using a can of compressed air, small tube, hose or drink straw. Direct the air source into the flame end of the pilot burner. Vacuum away the dust and lint from the mixing chamber.

BE CAREFUL NOT TO TOUCH OR DAMAGE THE RUBY ORIFICE
A & B Sales, PO Box 6488 Marietta, GA 30065 770-578-1010 FAX 770-578-6668